Chef! - Pictures
---
On this page, you can look at various miscellaneous Chef! pictures.
Click on any of the smaller images to load a larger version of that picture.
Special thanks to Doug Wood for the modification to Image 1.
---
The Many Faces of Gareth Blackstock (OK, most of them are yelling or glaring :)
---

Image #1
A modified picture of Chef getting irritated with Everton.
---

Image #2
Gareth & Janice Blackstock at their home dinner table.
"You see, it IS a mouse."
---

Image #3
Debra & Alice looking lovingly at the new Chef, Gustav LaRoche.
---

Image #4
Gustave LaRoche arrives at Le Chateau Anglais.
---

Image #5
Another shot of Janice Blackstock.
---

Image #6
Gareth getting out of a river looking very silly.

---

Image #7
Gareth sitting down a few minutes later.

---

Image #8
Gareth & Janice watching an adult video.

---

Image #9
Just a smiley pose.... (Actually, it's my favourite Gareth moment of all 3 series)

---

Image #10
But I haven't yelled at her yet.....

---

Image #11
Good help is so hard to find.....

---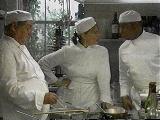 Image #12
The Series III Kitchen Crew (Gustav, Savanna, & Everton).....

---
Image #13
Series III Promo Picture (c) BBC

---
Image #14
Series III Promo Picture (c) BBC